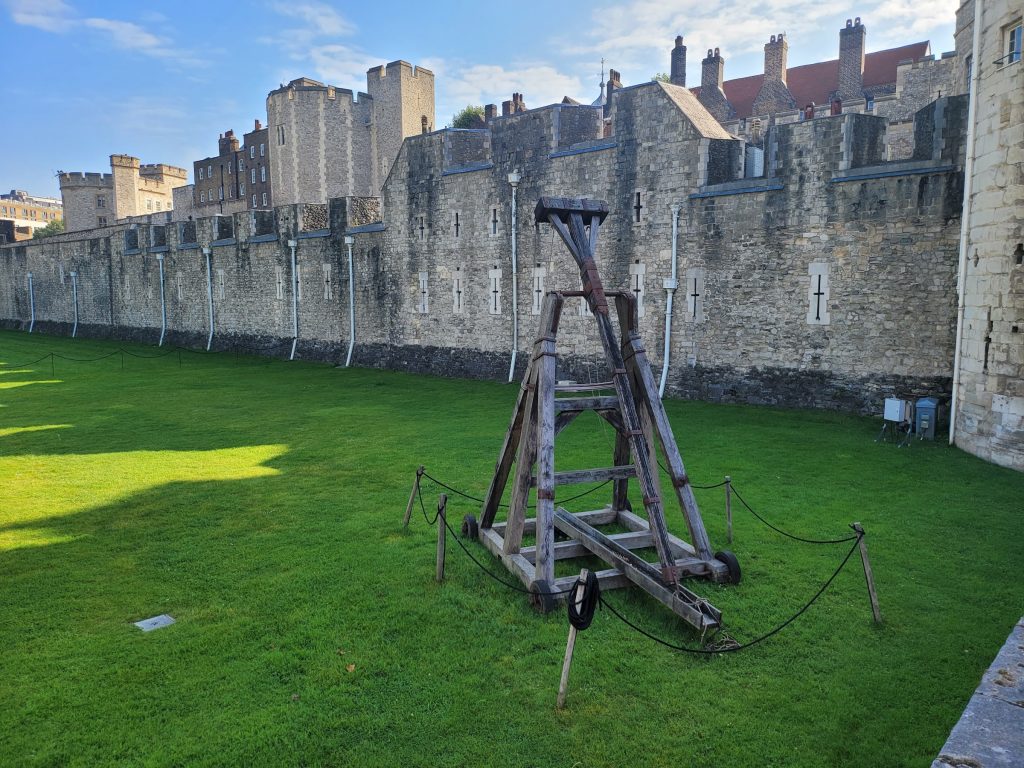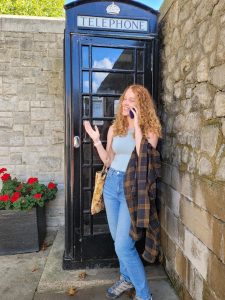 We have a flat! Well, we're in the process of signing a bunch of things that say we'll have one in a few weeks so here's hoping nothing goes wrong on that end… We only started the apartment search spreadsheet about halfway through the process and it's currently 26 flats long, with a detailed six-colo(u)r organizational system. Hopefully we can delete it soon. In the meantime, we'll be in a hotel for the next week or so, but we've moved to one with a bit more space which was much-needed. Unlike the first hotel, this one even has a microwave and a kettle, which expands our culinary options to include cup noodles and mac & cheese. We really like the apartment we've found- it's right on the Thames (as in, the building is right on the Thames. The apartment doesn't have a view or anything- I don't even want to know what that would cost) and it's real close to a couple of Underground stations which should make it really easy to get around.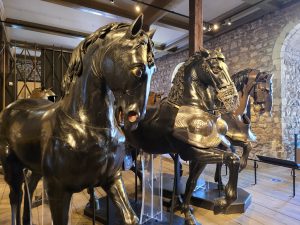 We got the call letting us know we had been approved for the flat while we were on the way out the door to go visit the Tower of London- which turned out to be fantastic timing because about an hour later, we were standing in the shadow of a building from the year 1200, using Sara's iPad to sign documents and email the letting agent. With that out of the way though, the rest of the visit was fantastic. We took a tour with one of the Yeoman Warders (one of the tower's guards) who are apparently also known as Beefeaters for some mysterious reason. We saw torture chambers, suits of armor, and of course, ravens. And a weird-looking horse statue. Look at that thing. That horse has seen some shit.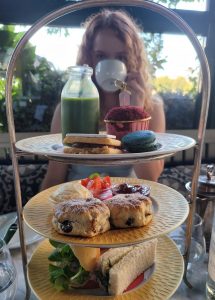 Later the same day we managed to check something off Sara's London List by attending Afternoon Tea which was… excessive. But delicious. We got to talking with the waitress and it turned out that by coincidence, she was from Boston. Once we realized that she could pronounce her "r"s, we were able to surmise that she was from the more local Boston, not the one we had just left a few weeks ago.
Speaking of food, we've been eating at the Spitalfields Market quite a bit. In fact, I'm sitting there as I'm writing this, right next to a couple of guys arguing over the guest list for their upcoming wedding. There are so many great stalls there- we've gotten crepe rolls, iced chai tea, and Japanese pancake souffles (which were just incredible). It's not just food, either- we've each gotten a new jacket there (but Sara's is cooler because it's denim and has a Led Zeppelin design on the back).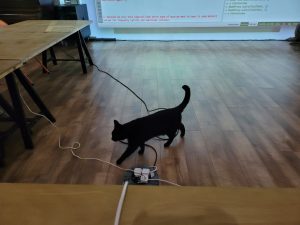 We've also been on the lookout for interesting events around the city, and oh boy did Sara find one. She got me to go to a live coding music workshop at an art collective (? complex? commune? It did have a small farm on the premises…) which turned out to be pretty funky. Live coding is the practice of using code in a performance, and the workshop was an introduction to creating music by writing code on-the-fly. Sara was, of course, much better at it than I was, but it was still a lot of fun. We even met somebody else from New Jersey, which was a bit of a wild coincidence. As great as the workshop was, the highlight was absolutely the cat that wandered in to say hi.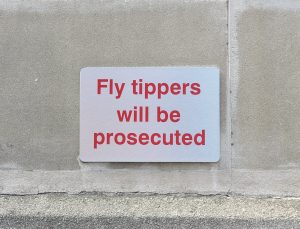 The workshop was a great opportunity to try out another of London's public transportation offerings- boats! We took a Thames Clipper, or Uber Boat (yes, that Uber) (I feel like they must have tried shortening it to U-Boat before thinking better of it) a mile or two down the river to get back to our hotel. Historically, royalty and prisoners (and sometimes royal prisoners) took boats down the Thames to disembark at the Tower of London, so it felt a bit anticlimactic (but reliving) to dock right next to the tower instead of at it, but it was still a good ride (albeit a crowded one). Definitely a bit too expensive and generally inconvenient for everyday use but it seemed worth doing again!
Finally, we even got around to doing something relatively normal this past week and went to a movie theater. It was an awesome, tiny movie theater that had couches instead of seats and served dinner & drinks, but a movie theater nonetheless. We finally saw Shang-Chi and the Legend of the Ten Rings, which we thought was great but we're both white so our opinions on a movie with a predominately Chinese cast should probably be taken with a grain of salt.