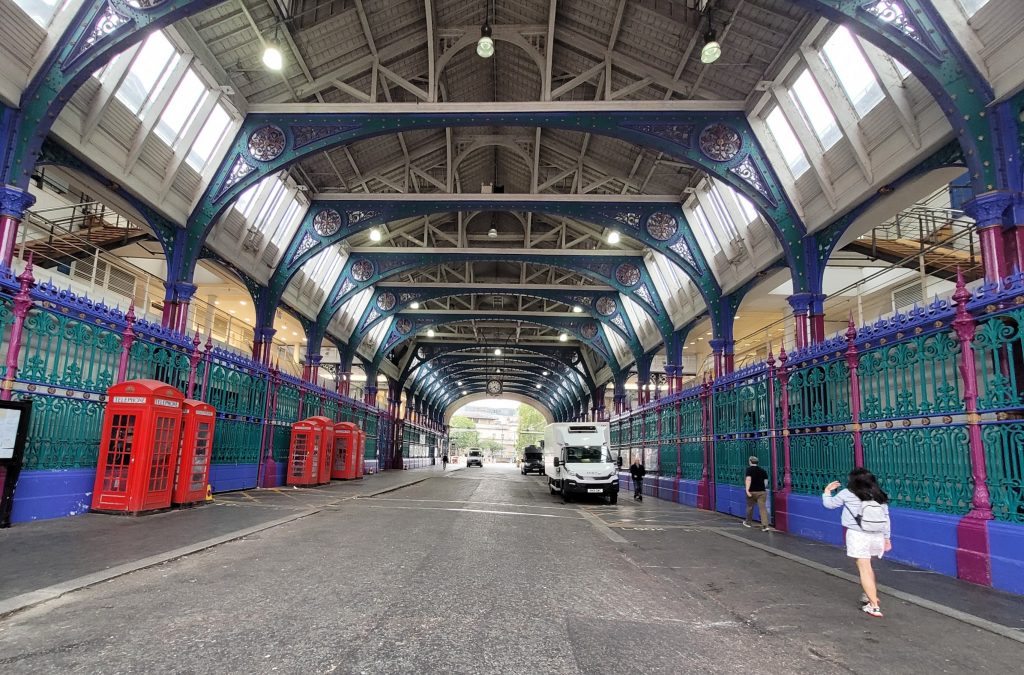 Well it's about time! I'm writing this post from my brand new desk in our brand new (to us) apartment. Okay, so the desk is just the cheapest surface I could buy from IKEA (it's the LAGKAPTEN), but it supports my laptop so it gets the job done. The flat itself is fantastic- right in Central London, a quick walk from a few different tube stations, and it's right on the Thames. As in, the building is right on the Thames, not our apartment specifically. We're on the opposite side, with a beautiful view of our neighbors' living rooms (receptions, as they're called here). But still. We could go look at the river if we wanted to (though I really don't want to know what apartments on that side of the building cost). Being on the cheaper side of the building has already had one benefit, though- the London Marathon was the other day, and our building is right on the course. If you looked out the right window, you could see down the alleyway to the main road where 80,000 people were running by, on their way to the finish line at Buckingham Palace. I wonder if the Queen was watching from one of her windows too? Anyway, we've been slowly getting settled in, and just this morning cleared out the monstrous pile of Amazon and IKEA boxes that was gradually taking over our living room reception. We reached a major milestone in the moving process- we just had our first home-cooked meal in London. It was spaghetti, but we boiled it ourselves. On our own stove.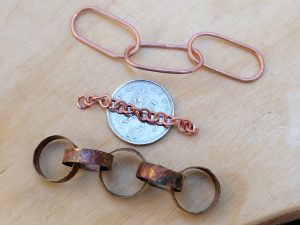 Speaking of settling in, we've each started to find our daily routine. Two days a week I have my Jewellers school, and when I walk into the cafe around the block each morning the barista pours me a cup of tea. I've never been a regular somewhere before, but I gotta say it's kind of nice. I've been making a bunch of chains in school- and as it turns out, tiny links are a real pain to solder. Sara has a mix of online and in-person classes, and has been going to campus semi-regularly. Missing regular access to a workshop, I've joined the London Hackspace, a communal shop that's about an hour away from our flat by public transport. It reminds me of RoboClub back at Carnegie Mellon- kind of a mess, full of intelligent and… quirky people, and at any given time at least one machine is out-of-order because somebody is trying to "improve" it.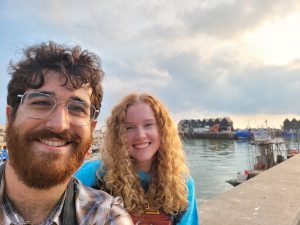 We've finally been on our first trip out of the city. Last weekend, we took the train to Whitstable, a small coastal town southeast of London. The ride was only about two hours- apparently you can take a train almost anywhere in this country, which is pretty great. The trip itself was a ton of fun- we ate some fresh-caught fish and chips (the fish was fresh-caught, not the chips), walked around the grounds of an old castle, and bought some fancy cheeses (they were sooo good). It was also the first time I broke out my cameras on the trip- I brought a 35mm film camera along and got some (hopefully) passable shots, but we'll see once the photos have been developed. The town had beautiful pebble beaches, lots of boats, and quite a few cute dogs.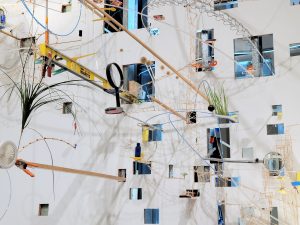 We also made a much shorter trip (like a ten minute walk) to the Tate Modern, a nearby art museum. I've gotta admit that there's a lot of modern art I'm not the biggest fan of (like the canvas there that was painted entirely blue, because the artist had commissioned a paint supplier to invent a new shade of blue for him which he proceeded to trademark), but the majority of the pieces were really interesting. I think my favorite of the bunch was a room-scale sculpture called Seamless, by Sarah Sze. It's a mishmash of random household objects somehow connected and suspended into long, interconnected branches. The random assemblage all flowed together into a surprisingly beautiful design. Plus, it was first displayed in Pittsburgh (though long before I lived there).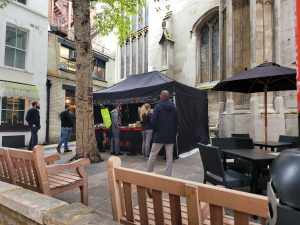 As if visiting art museums wasn't enough in the culture department, we've been making an effort to sample the local cuisine as much as possible. We've eaten at the most exclusive British establishments, including Five Guys, KFC, and Shake Shack. Fine Dining aside, there have been some really cool, quirky little restaurants so far- though the one that tops the list would have to be a pop-up tent on a church patio that sells surprisingly good Mexican food. For bonus points, the church (which still functions as a church) even has a cafe in the nave (though it's closed on Sundays).
Apparently, you can get a permit to walk along the Thames riverbank (called the foreshore) and look for, well, things. While not a very enticing prospect for someone whose mind immediately turns to the Hudson and the Charles when thinking about city rivers, the Thames has a bit more to offer. Friends of mine in Jewellers school said they regularly find bits of chainmail, old coins, and ton(ne)s of interesting artifacts. You have to report your finds, but you apparently almost always get to keep them (unless it's made of solid gold or something like that). Sara and I are going to have to give this a go.